WARNING: Wear garden gloves or use heat pads. The Temperature inside the box will exceed 130F after an hour of sitting undisturbed in the sun. It's hot enough to burn your finger tips if you touch the baking pan. Trust me, I know for a fact.
Key components:

I chose a 13x9x2 baking pan to hold the wax to be melted $ 7.50
A bread loaf pan to catch the melted wax $4.50
Wood to build a box $6.00
22x16 Pane of glass $6.50
Optional candy thermometer $2.50
It is not a bad idea to take the new purchased pans into the kitchen and swap them for an older set. You will need to make a wooden box big enough to accommodate the pans; the larger pan must drip into the smaller pan. Then make a frame for the pane of glass and seal it all with some door and window caulking.
Here is the box sitting in the sun. The dark lines along the seams of the box are door and window calking.
I made a bed on my holding pan with hardware cloth to filter larger pieces of wire out of the starter strips and whatever else may be in the wax. It also holds the wax off the pan so that heat can reflect off it.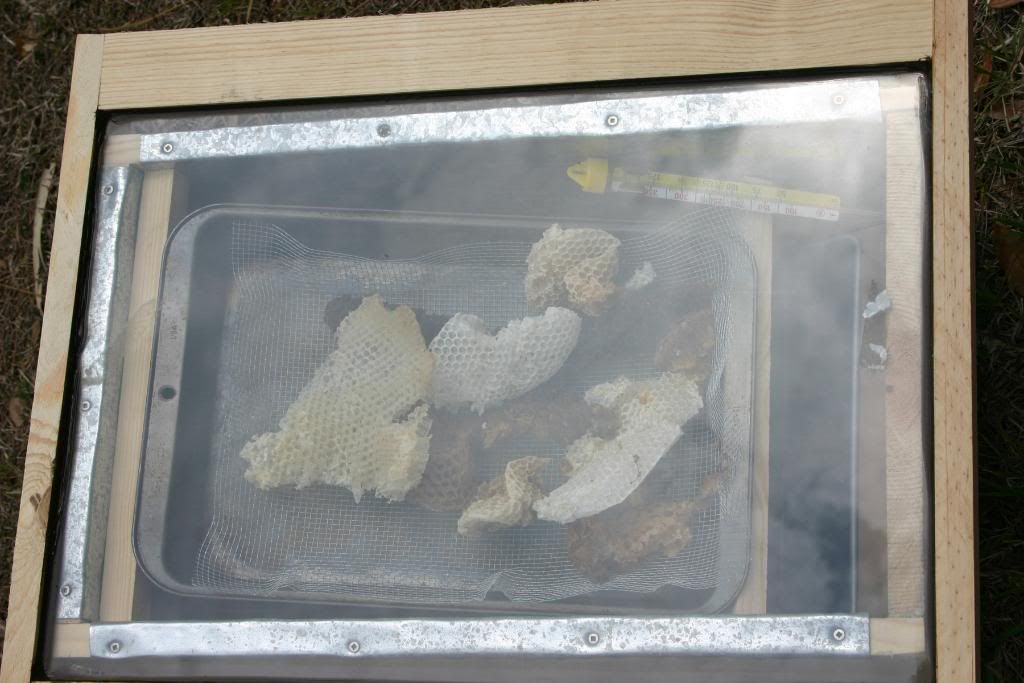 The old wax from brood frames is not a good wax to try and melt. It's not only ugly but it never melts enough to flow out of the top pan. I had mixed wax from old brood frames that were replaced, and wax left from the crush and strain process obtained while robbing honey.
Below is the result of my 1st solar wax melter trial. The stalactites of wax were formed because the sun went down before the wax in the holding pan had dripped down.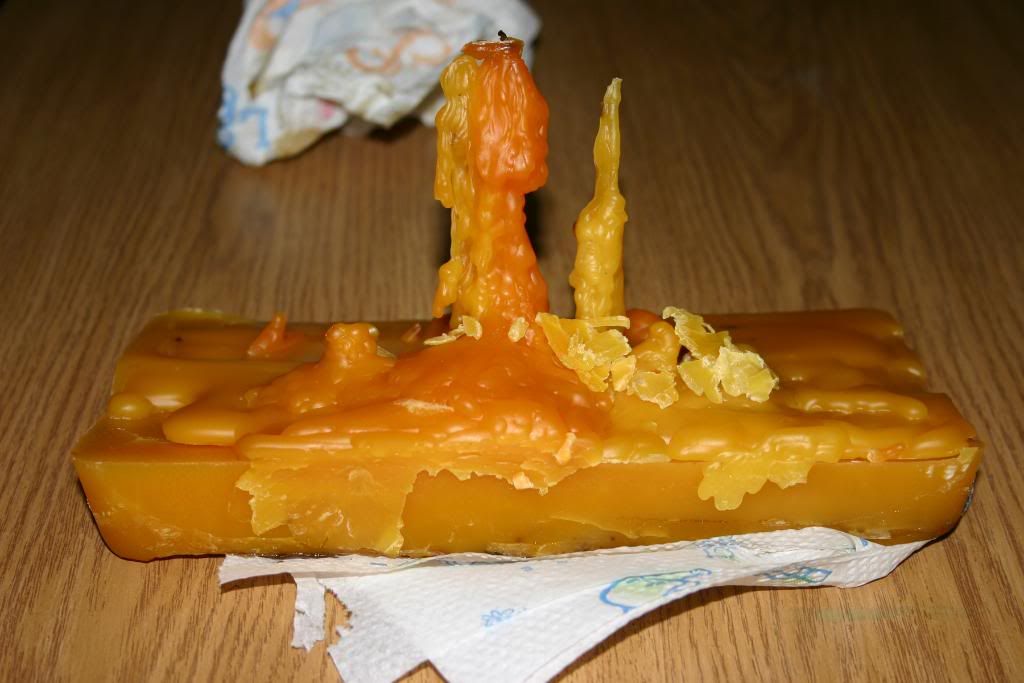 A few more hours the following day did the trick. Notice in the picture how one side of the wax is thicker than the other. The pan in the melter is not level. Allow the pan of wax to cool down over night. Once the loaf of wax is cool, place the pan and wax for five minute in the freezer. Remove and immediately twist the pan to remove the block of wax out of the pan.
This block of wax has really not been properly filtered out of impurities. Some people choose water in the collection pan. The wax sinks and the impurities float, therefore separating the two. Others use paper towels or coffee filters as a filter medium. I decided to use an old pair of panty hose. Below is my block of wax in the panty hose melting once again in the solar wax melter.